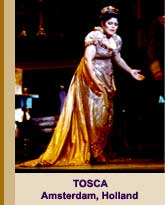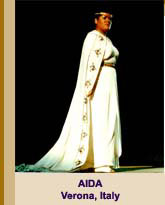 Awilda Verdejo, dramatic/spinto soprano, was born in Puerto Rico and did her musical studies at The Juilliard School in New York City.
As a member of the American Opera Center while at Juilliard, she performed the role of Pamina in The Magic Flute, the title roles in Jenufa and Madama Butterfly, a role she subsequently sang at The New York City Opera, The Kennedy Center in Washington, The Los Angeles Music Center, and The Stuttgart Opera in Germany.
She has performed the title role in Puccini's Tosca at the Viennastaatsoper, the Festspielhaus in Salzburg, in Munich's National Theater, and in Mexico City. Ms. Verdejo has performed her signature role, Aida, in Caracalla, Rome, in the Arena of Verona, (where she won the admiration of Prince Charles), in Munich, Hamburg, Mexico City, Brazil, and in Cairo, Egypt, where the opera was performed on a stage in the middle of the desert, with the ancient pyramids and the Sphinx as backdrop.
She has performed with such conductors as Leonard Bernstein, Pierre Boulez, James Conlon, Guiseppe Patané, Daniel Oren, Jon Robertson, Julius Rudel and Michael Tilson Thomas.